Chelstin & Austin's Studio Maternity Photos.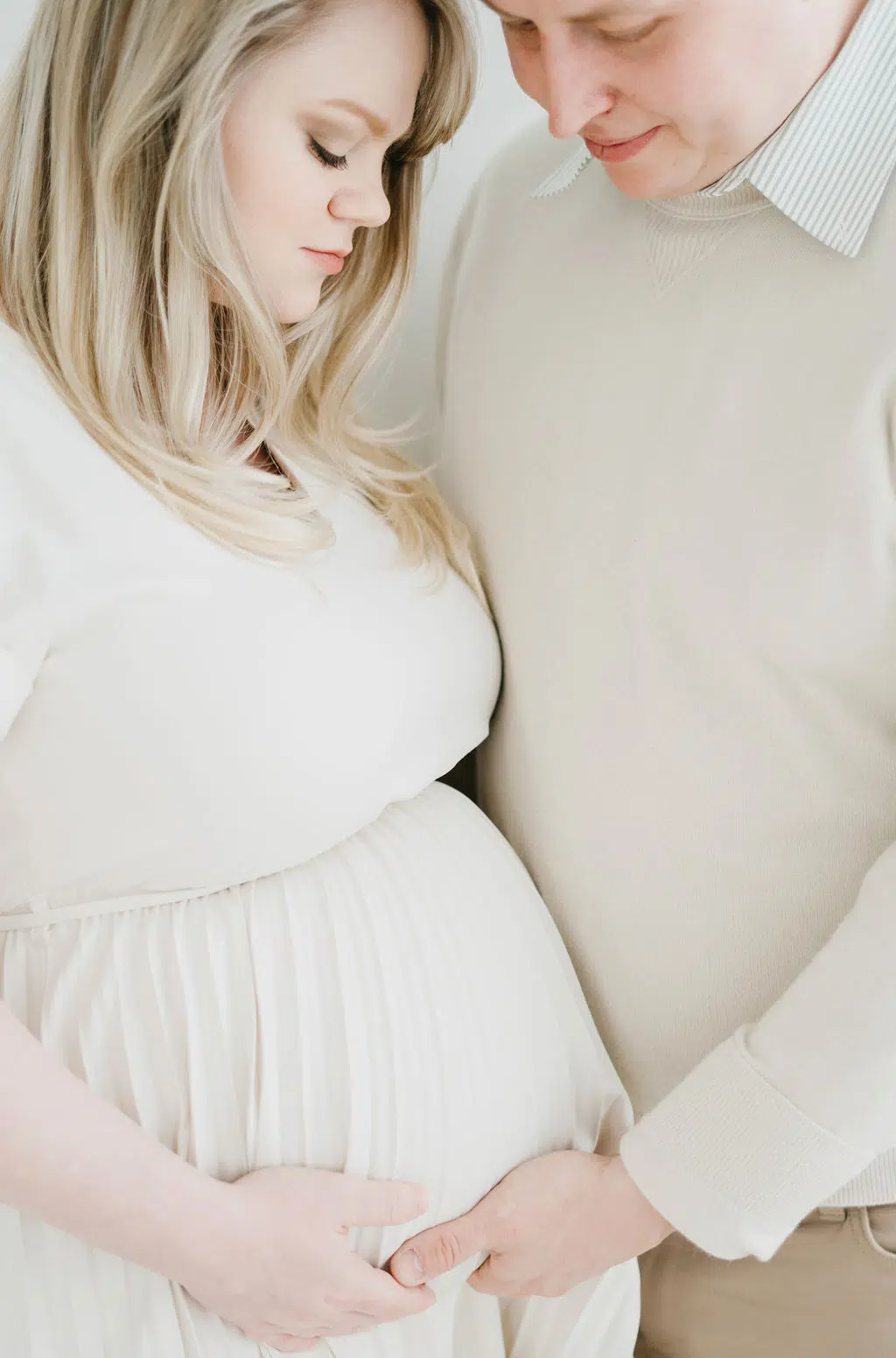 As a professional maternity photographer, I had the pleasure of capturing Chelstin and Austin's special moments during their light and airy maternity studio photo session. The session was a dream come true, as the couple radiated with joy and anticipation for their growing family. I also happen to photograph Chelstin & Austin's wedding at the Royal Park Hotel! When Chelstin reached out to me, I was THRILLED! I instantly connected with both of them and can honestly say I feel blessed to not only have amazing clients but now, friends. <3
The studio was filled with natural light, creating a soft and ethereal ambiance that perfectly complemented Chelstin's pregnancy glow. She looked stunning in her flowing off white colored gown that accentuated her baby bump, while Austin looked dapper in his crisp white shirt, standing proudly beside his wife. Their love and connection were palpable, making my job as their photographer an absolute delight.
To set the mood for the session, I had carefully selected props and decor that matched the couple's style and the light and airy aesthetic they desired. Delicate floral arrangements adorned the studio, adding a touch of femininity and elegance to the overall ambiance. A simple white backdrop served as a canvas for the couple to showcase their love and excitement for their upcoming bundle of joy.
During the session, I encouraged Chelstin and Austin to interact naturally, capturing candid moments that reflected their deep bond. They laughed, whispered sweet nothings to each other, and shared tender kisses, creating a beautiful narrative of their love story. I was in awe of their chemistry and how effortlessly they posed, making my job as a photographer a breeze.
As the session progressed, we incorporated different poses and angles to capture a variety of images that highlighted Chelstin's baby bump and the couple's connection. We captured intimate shots of Chelstin cradling her bump with a serene expression, as well as playful shots of Austin kissing her belly with a twinkle in his eye. The couple's excitement and anticipation for their baby were palpable, and I made sure to capture every precious moment.
The studio session also allowed us to experiment with different lighting techniques, creating artistic and whimsical shots. We played with soft lighting that accentuated Chelstin's natural beauty and highlighted the curves of her baby bump. We also used silhouettes against the bright backdrop to create dramatic and breathtaking images that exuded joy and hope.
Chelstin and Austin's love and excitement for their baby were contagious, and it was an honor to capture their journey to parenthood. The session was filled with laughter, tender moments, and heartfelt emotions that made it a truly memorable experience for everyone involved.
After the session, Chelstin and Austin were thrilled to receive the final images. They were captivated by the light and airy aesthetic of the photos, which perfectly reflected their vision for the session. The images were a timeless memento of this special time in their lives, and they cherished them as precious keepsakes that they could share with their child in the future.
In conclusion, Chelstin and Austin's light and airy maternity studio session was a magical experience that captured their love and anticipation for their growing family. The natural light, delicate props, and candid moments created a dreamy and ethereal ambiance that perfectly reflected their style and aesthetic. As their photographer, I was honored to document this special chapter in their lives and provide them with cherished memories that they will treasure forever.